Lizzy gives you the tools needed to keep track of your inventory better than ever before. Since all modules integrate together, you can be at peace knowing the accounting is all taking place behind the scenes while parts, units, or rentals are being invoiced. For the ability to create and build assemblies, select an item number for the assembly, add in the parts that make up the assembly, then build away. Lizzy keeps up with all of the related accounting and tracking to help you along the way.
Inventory Control Features
Receiving items

                                  

Printing bar-codes

Track special orders

Handling assemblies

Return authorizations

Track internet orders 

Detailed costing
Lizzy tracks each individual item that moves through your company in every detail.  It can tell you how many times you've received, sold or used each item.  It can tell you to the penny how much you paid for the item, each time you bought it, and how much you sold each item for.  Lizzy even knows when a customer returns an item for a refund, exactly which one they purchased, and returns it to inventory at the exact same selling price.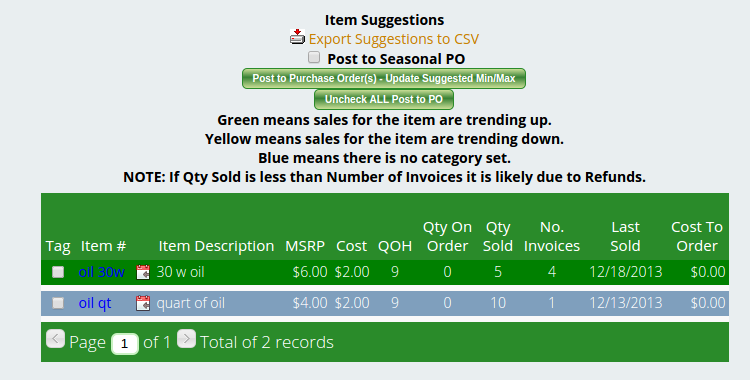 To say Lizzy can track each item is an understatement, and taking a look at your Inventory section will show why.  Detailed costing, the ability to track inventory that is stored in multiple bins or even in multiple warehouses, tracking it internally between parts, service and major unit sales, the list goes on.  If you want to know anything at all about a part, all you need to do is ask Lizzy, she knows.
Lizzy comes with a full blown shipping module that can track everything from special orders to Internet and Service Orders.  Lizzy allows for specialized bin creation for held parts until they are shipped, in-stock pull requests, and tracks the movement of the parts from one station to the next. You can do partial shipments, change shipment type and charges; all while interfacing with the major shipping carriers, like FedEx, UPS, and USPS via stamps.com.
Generate RMA's, track them upon returns and issue credits back to the customers account.  It's all here, just give us a call to check it out.
Ready to test drive Lizzy? Sign up for the FREE TRIAL today!