Lizzy Powers OPE Dealers
You need a software system that knows your industry. Lizzy has the efficiency, speed & performance that you're looking for. You demand efficiency & performance from the units you sell… why not demand it of your BMS?
Made for Your Business
You're busy selling & servicing the tools that consumers and companies need to keep their properties looking great, and you need a software program that works as hard as you do. We understand.  Lizzy was built to manage the concerns of OPE dealerships just like yours. And with over 20 years of experience helping small engine dealers be more profitable and productive, nizeX has the know-how to help your business prosper. From parts to sales to service, and even rental, consignment, and e-commerce/webstore, Lizzy can handle every part of your business.
We Don't Just Meet The Standards… We CREATE Them!
Web-based is the trendy thing to do these days. But Lizzy was ahead of its time. First offered back in 2009, Lizzy was the OPE industry's FIRST web-based DMS. Now while our competitors are creating their own hosted versions, we're on to what we do best: adding cutting-edge features for no extra charge. Going web-based lets you leave behind server backups and time-consuming software updates. And our knowledgeable team ensures your data is always secure, yet easily accessible when you need it.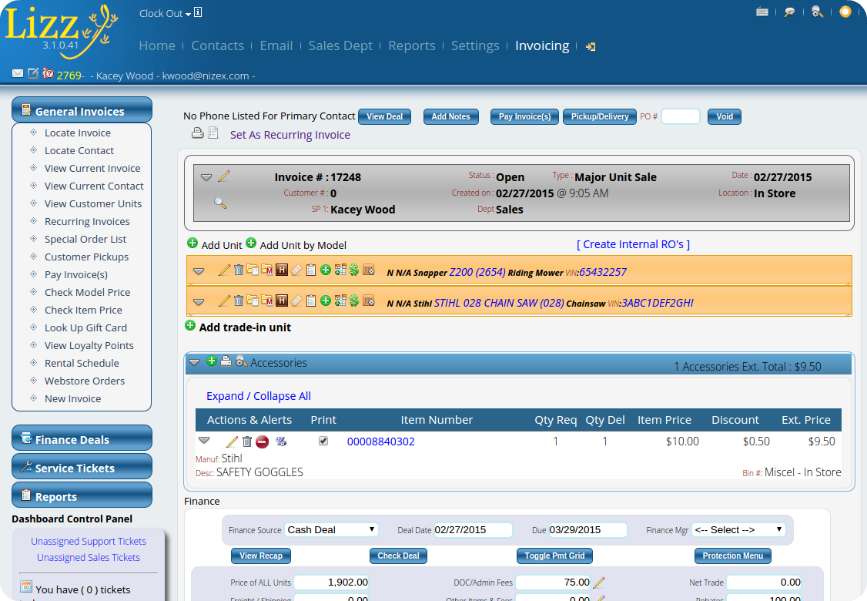 We Work For You
Our approach to sales and customer service is based on what suits your needs, not ours. There is a small up-front fee to get started, and a reasonable monthly fee based on the number of people who will be using Lizzy. There's no worry about us holding your data hostage like some of our competitors, either. We'll guarantee that your data is yours — forever. The best part? You'll never pay extra for software features, because everything's included. Your monthly fee includes tech support, software updates, AND automatic price file updates. Call us today to find out how just how different we really are.
OPE Highlights
Advanced Inventory Management
Automatic Price File Updates (over 300 and growing)
CRM (Customer Relationship Management)

Individual & departmental calendars
Integrated with Invoicing & Service
Keep track of sales progress & opportunities
Integrated email

Automatically email customers when special order inventory is received
Email receipts
Mass email customers about promotions or dealership events
FULL E-Commerce Capabilities

Fulfillment from invoice to picking to shipping
Shipper integration (UPS, FedEx, and USPS)
Webstore integration
Integrated Accounting

Accounts Payable
Accounts Receivable
Checking
Double-entry General Ledger
Integrated reporting offers a real-time look at your business
Payroll

Integrated time clock
Integrated with calendar & mechanic scheduler
Service & Warranty

Pickup & Delivery scheduling and tracking
Mobile access makes Lizzy great for mobile service work
Vendor Integration

CODIS
EZ Link
merX (nizeX's own open source, FREE electronic interface)
Ready to test drive Lizzy? Sign up for the FREE TRIAL today!