Lizzy has a Budgeting module that is very easy to use. Simply set it up and assign items to it.
A budget is a particular purpose that expenses are accrued against. For example, in my business, I allocate $5,000.00 for advertising.  In Lizzy, I would go into Accounting > Budget > Create / Modify Budget and insert a line for Advertising  for 5000.00.

Now, anytime you write a check, work with a payable, or are working with your petty cash, you can assign it to the budget.
Lizzy will keep track of all the money you spend working with this budget and you can get reports showing you your expenses and total.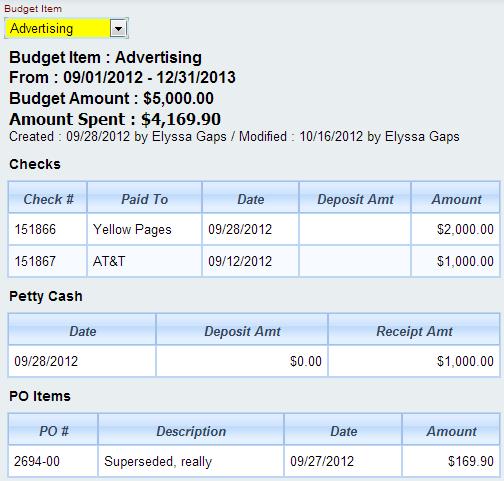 So by using the budget system built into Lizzy we can keep an eye not only on how much money we allocated to spend on each type of business function throughout the year, but we can also see a break down of what the real expenses ended up being as they are accumulating.