Saving Customer Credit Cards for Future Purchases
Sometimes you may have a customer that wants you to save their credit card information for phone sales (or for their employees to make purchases without the company card in hand). Yes, you can do this in Lizzy and still be PCI compliant! Here's how.
(Please note that you must be running your credit card processing via Lizzy in order to utilize this feature.)
If you are on an invoice and hand-enter the credit card data, Lizzy will automatically save this card to the customer's contact record for later payment use. You may be wondering why we do this automatically with hand-entered cards. In most cases, dealers or retailers shouldn't be entering card information manually unless they're taking a card payment over the phone. Why? It's much faster to swipe a credit card than to hand-enter the card number. Also, you'll generally be getting a lower processing rate when you swipe a card, since your credit card processor knows that the transaction you're performing is "card present," with the cardholder (and the card) present in person. So, on the (rare) occasion that you're hand-entering a credit card, Lizzy knows that chances are good that this is a "card not present" transaction where the cardholder isn't right in front of you, and this may be a repeat customer that will be buying from you in the future.
To hand-enter a card number, create the invoice as usual. From the payment screen, select the card type (Visa, MasterCard, etc). Then select the card icon with green plus sign to hand-enter the card data. You'll see additional fields open up to add the customer's card number and confirm their billing information.


You may be wondering if there is a way to add a card to a customer's record without creating an invoice. Yes! Just locate (or add) the customer, and then select the Credit Card Info tab from the top of the contact record. Click the pencil to edit a saved card or add a new one. Once you add this information, you'll see the saved card data from the invoice payment form.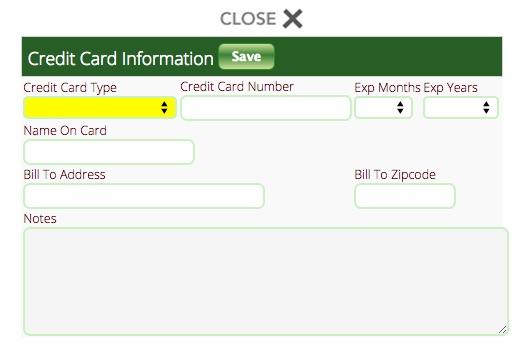 Once you're ready to use the card on file, create your invoice as normal & once you're ready to pay, confirm the payment type the customer wants to use (Visa, MasterCard, etc). Select that card type from the payment screen. Whenever a customer has a card on file, you'll see a new icon on the payment form (highlighted below) for you to select & use as payment.

Hit "Select" to use this card.

Once we select the card on file, you'll see the credit card details. To keep Lizzy PCI compliant, we do not show you the entire card number after it has been put on file.

Simply hit the "process payment button" and you'll receive back an approval as usual (or if the card is declined, a message with the reason).