8×8 Phone System and Lizzy Integration on Mac OSX
We have recently switched from using Skype to using 8×8 as our phone provider and one of the things we just had to get working properly was the ability to click a phone number inside Lizzy CRM and have it dial the phone number in our softphone.  There are a number of different ways to do this, but I'm going to list out the specific software programs I'm using and what I've done to get it working properly.  We'll be posting another separate blog entry for how to get this working on Windows.  Also note that Linux at the time of this writing, has no useful software for dealing with softphones, so we won't be covering it at all.  If this changes in the future we'll write something then.
The first program I downloaded to work with 8×8 was X Lite which is a free program and works ok.  It lacks a few of the more advanced features that I wanted though, so I ended up purchasing the same companies Bria 3 application.  As dumb as it sounds, Bria 3 doesn't have the ability to act like Skype, where it receives an incoming request and just dials the phone number for you.  It is a fairly nice program although I think they need to pay more attention to the usability of the application as it has a lot of different areas that need to be improved.
One example is that it can't import your contact list directly from 8×8.  I had added half my contacts and realized that it had an import feature.  I told it to import and remove the existing contacts and it deleted my contacts, then failed to import anything.  Might be a good idea to make sure you actually import before deleting things.  Another issue is manually adding contacts takes way too many steps.  They force you to click all over the place to add a contact and then close the box after adding one, forcing you to then go click to reopen it over and over. Other than these few things though it works pretty well.
Luckily for me there is another program called Dialectic available on OSX that interfaces web links to all kinds of softphone apps and works great to get my links going again between Lizzy and 8×8.
Below I've pasted what my Preferences look like for both Bria and the default number stripping stuff in the dialectic software.  The program is fairly easy to setup.  As for Bria setup, you'll need to work with whatever phone system you use in order to determine the proper settings there, so I won't go into any detail on how to set that up in this article.
This is an image of my Dialing Rules: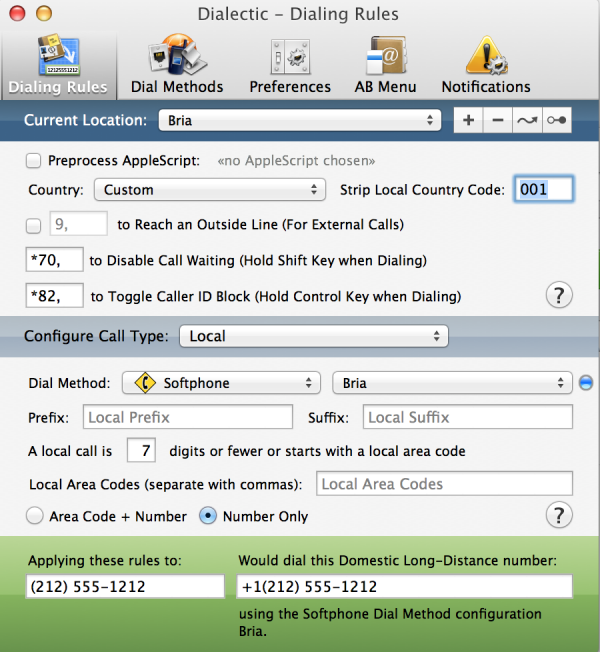 Here is my Dial methods screen and you can select Bria or X Lite from the Softphone section: